People have developed a wide range of resources to use in conjunction with The New Jim Crow. On this page you will find an organizing guide, multiple study guides, and a teaching curriculum for high school students. All of these resources are based on The New Jim Crow and can be used as companions while reading the book.
Organizing Guide: Building a Movement to End The New Jim Crow
NOW AVAILABLE!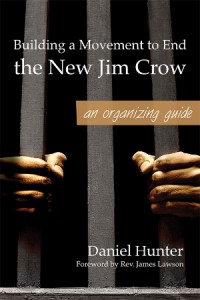 Expanding on the call to action in Michelle Alexander's acclaimed best-seller, The New Jim Crow, this accessible organizing guide by author-strategist Daniel Hunter puts tools in your hands to help you and your group understand how to make meaningful, effective change.
Learn about your role in movement-building and how to pick and build campaigns for justice that contribute towards a bigger mass movement against the largest penal system in the world.
This important new resource offers examples from this and other movements, time-tested organizing techniques, and vision and inspiration to challenge, encourage, and motivate. Whether you've been working on this issue for years, or are just starting out, you'll find tips and stories to inspire and help you make a difference!
Available at Amazon.com
Or you can order directly from the author, including for bookstores and discount bulk orders.
The New Jim Crow Study Guide
"An urgent invitation to transformation." ~Dr. Vincent Harding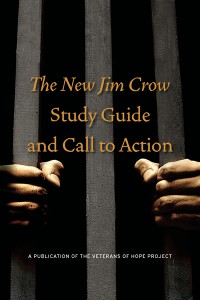 Drawing from and expanding on the themes of Michelle Alexander's acclaimed best-seller, The New Jim Crow, this in-depth guide provides a launching pad for groups wishing to engage in deep, meaningful dialogue about race, racism, and structural inequality in the age of mass incarceration.  The Study Guide and Call to Action spans the entirety of The New Jim Crow, engaging the critical questions of how we managed to create, nearly overnight, a penal system unprecedented in world history, and how that system actually functions — as opposed to the way it is advertised.  This important new resource also challenges us to search for and admit the truth about ourselves, our own biases, stereotypes, and misconceptions, and the many ways in which we might actually be part of the problem.
Interlaced with the words and thoughts of Martin Luther King Jr., the Study Guide and Call to Action's narrative sections, discussion topics and questions steer readers beyond the four corners of The New Jim Crow, challenging us to discover what is required of us at this critical moment in our nation's history. Prepared over the course of 2012, this publication from the Veterans of Hope Project promises to play a key role in the growing movement to end one of the most pressing human rights crises of our time.
The New Jim Crow Study Guide and Call to Action is designed as a companion to The New Jim Crow. A free, downloadable pdf of the guide is available to groups that have read or are planning to read The New Jim Crow together, and to educators and students using the book.
To request free copies for your study group, please click here.
---
Other Study Guides
---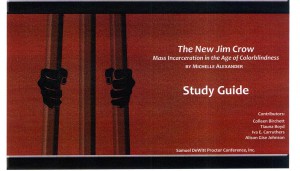 The Samuel DeWitt Proctor Conference, a network of several thousand progressive black churches, has created a faith-based study guide for The New Jim Crow to help facilitate study groups and consciousness raising in black faith communities. Click here to purchase the guide.
---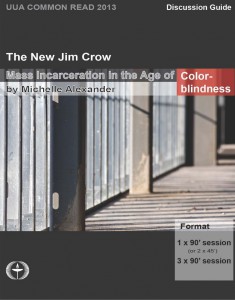 The Unitarian Universalist Association (UUA) has selected The New Jim Crow as their 2012-2013 Common Read. Click here to download the UUA New Jim Crow discussion guide.
---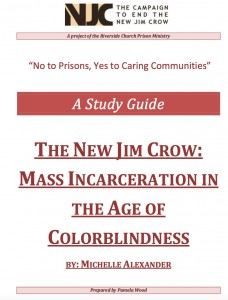 The Campaign to End the New Jim Crow (CENJC), an organizing project of the Riverside Church Prison Ministry, has created a study guide designed to raise consciousness among readers who are interested in thoughtful reflection on the issues raised in the book, recommended additional resources, and step-by-step guidance. Click here to download the CENJC study guide.
---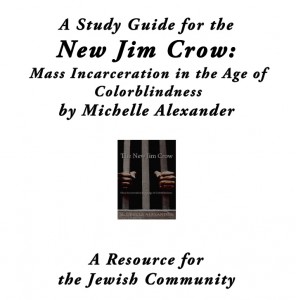 The Woodstock Jewish Congregation Task Force to End the New Jim Crow has created a study guide as a resource to assist Jewish communities in group readings of Michelle Alexander's life-altering book, The New Jim Crow. It differs from other study guides in that it asks you to consider the material from a Jewish perspective. Click here to download the study guide. Another study guide for the Jewish community is here.
---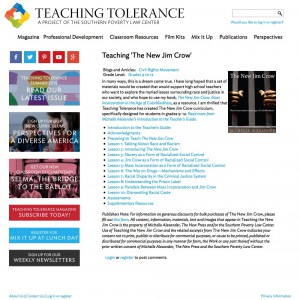 Teaching Tolerance, a project of the Southern Poverty Law Center, has created a guide for teaching The New Jim Crow  to high school students. It features an introduction by Michelle Alexander, ten discrete lessons, supplementary resources, and more.  Access it here.
---