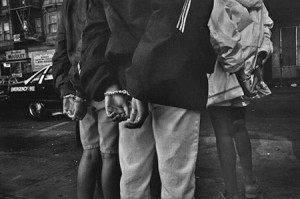 Since the publication of The New Jim Crow, a number of groups and organizations have dedicated themselves to the task of genuine movement building to end our nation's current caste system. Others have been working to end mass incarceration for many years. This is not a complete list by any means, but it is a place to start. Additional organizations and resources will be posted shortly.  Please get involved.
The Samuel DeWitt Proctor Conference, (SDPC) is a national network of several thousand progressive black churches. Inspired by The New Jim Crow, SDPC has made ending mass incarceration and building a new moral consensus its main priority for the coming years, and committed itself to consciousness raising and movement building from a faith perspective. SDPC has partnered with numerous faith organizations and networks around the country, and is rolling out an ambitious campaign during the next two years. For more information, or to get involved in this national effort, click here.
The Campaign to End the New Jim Crow is a grassroots organization based in New York. It is committed to building a movement with the goal of replacing prisons and life-long discrimination with caring communities. The group began as a study group of The New Jim Crow at Riverside Church, and now claims hundreds of activists who are working in coalition with others to build a vibrant, national grassroots human rights movement. For more information, or to get involved, click here.
All of Us or None is a grassroots civil rights organization fighting for the rights of formerly- and currently- incarcerated people and their families, including the discrimination that people face every day because of arrest or conviction history.  The goals of All of Us or None are to strengthen the voices of people most affected by mass incarceration and the growth of the prison-industrial complex through grassroots organizing and to build a powerful political movement to win full restoration of their human and civil rights. For more information, or to get involved, click here.
The Formerly Incarcerated Peoples Movement is a promising new organization created and led by formerly incarcerated people. It is dedicated to achieving the full restoration of civil and human rights for all people, particularly those who have been convicted by the criminal justice system. For more information, or to get involved, click here.
Students Against Mass Incarceration. Since the publication of The New Jim Crow, student organizations opposed to mass incarceration have begun to form on college campuses, including Howard University and Columbia University. For more information, to get involved, or to form your own campus group, click here.
Ella Baker Center for Human Rights (EBC). EBC has been at the forefront of multi-racial grassroots organizing to end mass incarceration in California. They believe the safest neighborhoods are not the ones with the most prisons or the most police, but the ones with the best schools, the cleanest environment, and the most opportunities for young people and working people. Instead of basing policies on fear, EBC is committed to building a society where decisions and laws are based on love and common concerns. For more information or to get involved, click here.
Critical Resistance is one of the oldest organizations committed to grassroots movement building to end mass incarceration, possessing the foresight to see that nothing less than a major movement would do – long before many others even acknowledged mass incarceration as an issue of pressing concern. Critical Resistance seeks to build an international, human rights movement to end the prison-industrial-complex. To get more information or to get involved, click here.
Civil Rights Organizations: In recent years, major civil rights organizations have begun to focus on ending mass incarceration in the United States, including the ACLU, the NAACP, the Lawyers Committee for Civil Rights, and the Center for Constitutional Rights.
Resources: Excellent resources for effective organizing efforts, including reports, analyses and data, can be obtained from the Sentencing Project, the Justice Policy Institute, the Drug Policy Alliance, the Fortune Society, the Correctional Association of New York, the Haywood Burns Institute, the Campaign for Youth Justice, and the HIRE Network.